Featured new articles related to intranasal drug delivery:
April - June 2015
___________________________________
Over the counter nasal naloxone!
Web site Editorial comments:
This fall of 2015 CVS announced that it would stock OTC nasal naloxone on its shelves in 14 states with progressive legislative agendas that have approved this to try to stem the epidemic of opioid related deaths. No prescription needed! This is an amazing event as the FDA has still not approved nasal naloxone for prescription use, let alone over the counter use. After 20 years of preaching this concept, it is rewarding to see our public representatives do the right thing for their constituents - ahead of and regardless of all the regulatory hurdles. I do need to still congratulate the FDA as they have encouraged industry to provide us a prescription approved medication backed up by clinical research to get us to this point and they have very intelligently not interfered with the groundswell for the use of this therapy.
Graudins, A., R. Meek, et al. (2015). "The PICHFORK (Pain in Children Fentanyl or Ketamine) trial: a randomized controlled trial comparing intranasal ketamine and fentanyl for the relief of moderate to severe pain in children with limb injuries." Ann Emerg Med 65(3): 248-254 e241.
Abstract: STUDY OBJECTIVE: We compare the analgesic effectiveness of intranasal fentanyl and ketamine in children. METHODS: This was a double-blind, randomized, controlled trial comparing fentanyl at 1.5 mug/kg with ketamine at 1 mg/kg in children aged 3 to 13 years and weighing less than 50 kg, with isolated limb injury and pain of more than 6 of 10 at triage. The sample size was 40 in each arm. Subjects were coadministered oral ibuprofen at 10 mg/kg. The primary outcome was median pain rating reduction at 30 minutes. Secondary outcomes were pain rating reduction at 15 and 60 minutes, subjective improvement and satisfaction, University of Michigan Sedation Score, adverse events, and rescue analgesia. RESULTS: Eighty children enrolled, and 73 were available for analysis: 37 fentanyl and 36 ketamine. Median age was 8 years; 63% were male children; median baseline pain rating was 80 mm. At 30 minutes, median reductions for ketamine and fentanyl were 45 and 40 mm, respectively (difference 5 mm; 95% confidence interval [CI] -10 to 20 mm). Reductions exceeded 20 mm for ketamine and fentanyl in 82% and 79% of patients, respectively (difference 3%; 95% CI -22% to 16%). Pain rating reduction was maintained to 60 minutes in both groups. Satisfaction was reported for ketamine and fentanyl by 83% and 72% of patients, respectively (difference 11%; 95% CI -9% to 30%). Adverse events, mainly mild, were reported for ketamine and fentanyl by 78% and 40% of patients, respectively (difference 38%; 95% CI -58% to 16%). Three ketamine patients had a moderate degree of sedation by University of Michigan Sedation Score. CONCLUSION: Intranasal fentanyl and ketamine were associated with similar pain reduction in children with moderate to severe pain from limb injury. Ketamine was associated with more minor adverse events.
Web site Editorial comments:
Here is another emergency room article documenting the efficacy in IN ketamine for pain control when used in subdissociative doses (1 mg/kg). This treatment was equivalent to IN fentanyl given at 1.5 ug/kg (I use 2 ug/kg which is easier to calculate, proven safe and effective). This adds yet another option for rapid, non-invasive pain control in the emergency setting – eliminating the need for an IV in many situations, yet providing pain control that is essentially equivalent to IV morphine.
Pubmed link: http://www.ncbi.nlm.nih.gov/pubmed/25447557
___________________________________
Schacherer, N. M., D. E. Ramirez, et al. (2015). "Expedited Delivery of Pain Medication for Long-Bone Fractures Using an Intranasal Fentanyl Clinical Pathway." Pediatr Emerg Care.
Abstract: OBJECTIVE: This study aims to determine whether a pathway designed to facilitate the use of intranasal (IN) fentanyl for long-bone fractures will expedite the delivery of pain medication, decrease the total length of emergency department (ED) stay, and provide faster analgesia compared with intravenous (IV) morphine. METHODS: A pain pathway for IN fentanyl in long-bone fractures was instituted in our ED in July 2011. We performed a retrospective and prospective chart review of patients aged 3 to 21 years who presented to the ED with a clinically suspected long-bone fracture and either received IV morphine or were placed on IN fentanyl pain pathway. RESULTS: A total of 94 patients met our inclusion criteria; 71 received IV morphine, and 23 received IN fentanyl, per pathway protocol. The mean length of time to pain medication administration was statistically significantly faster for IN fentanyl (37 minutes) than for IV morphine (62 minutes) (P = 0.002). The mean total length of stay for patients who received IN fentanyl versus patients who received IV morphine was not statistically significantly different after excluding patients who needed reduction or surgery. Effectiveness of pain control was not statistically significantly different between the IN fentanyl group and the IV morphine group. CONCLUSIONS: Use of the IN fentanyl pain pathway significantly decreases time to pain medication administration in pediatric patients with suspected long-bone fractures.
Web site Editorial comments:
Here is yet another in a series of ED studies showing that implementation of an IN fentanyl pathway for severe pain leads to more rapid drug delivery, faster pain control and equivalent pain control to IV therapy. For a few dollars in costs (probably less than IV costs) what would you want for your child? Timely pain control is a core measure - why not include quality pain control with that and give the patient an effective medication that is safe (some institutions implement IN fentanyl at triage - literally only minutes from arrival to effective pain control for severe fracture and burn pain, renal colic control, etc).
Pubmed link: http://www.ncbi.nlm.nih.gov/pubmed/25875994
___________________________________
Belkouch, A., S. Zidouh, et al. (2015). "Does intranasal fentanyl provide efficient analgesia for renal colic in adults?" Pan Afr Med J 20: 407.
Abstract: INTRODUCTION: Intranasal fentanyl provides rapid and powerful analgesia which is particularly interesting in patients without intravenous access. We propose to use it for analgesia in adults presenting renal colics. METHODS: A prospective study was conducted from the 2nd January to February 2013 in our emergency department. Patients aged up to 18 years old who presented with renal colic were included in this audit. Patients were excluded if they had loss of consciousness, cognitive impairment, acute or chronic nasal problems. A formal written consent was obtained from patients. The research team was alerted by medical and nursing staff. A member of the research team would check with medical or nursing staff whether administration of Intra nasal (IN) fentanyl was required. It was administered at a pre-calculated dose of 1.5 mg/kg and 50 mg/ml concentration was used. Data was prospectively collected by one of the researchers at various intervals during the patient's presentation and recorded on a pre-formatted data sheet. Pain scores were collected at 5, 15, 30, 45 and 60 minutes following IN fentanyl using a visual analogue scale pain. Observations routinely collected for patients receiving IV opiates and any adverse events were also recorded. RESULTS: 23 eligible patients were enrolled; median age was 51,3 years. 47,8% were women and the mean weight was 73 kg. Median dose of IN fentanyl was 106 mug. Two patients have required morphinic analgesia despite having received adapted dose of IN fentanyl. The initial pain scores before IN fentanyl were high with a median of 82,2 mm (59-100). Five minutes after IN fentanyl administration the median pain score dropped to 48 mm(36-63) and achieved the lowest score of 8mm(0-22) at 30 min. Pain scores were significantly lower at 5 min (P < 0.001) and at all subsequent time points (P < 0.001). No side effects were recorded. CONCLUSION: Intranasal fentanyl seems to be efficient for analgesia in adult patients with renal colic.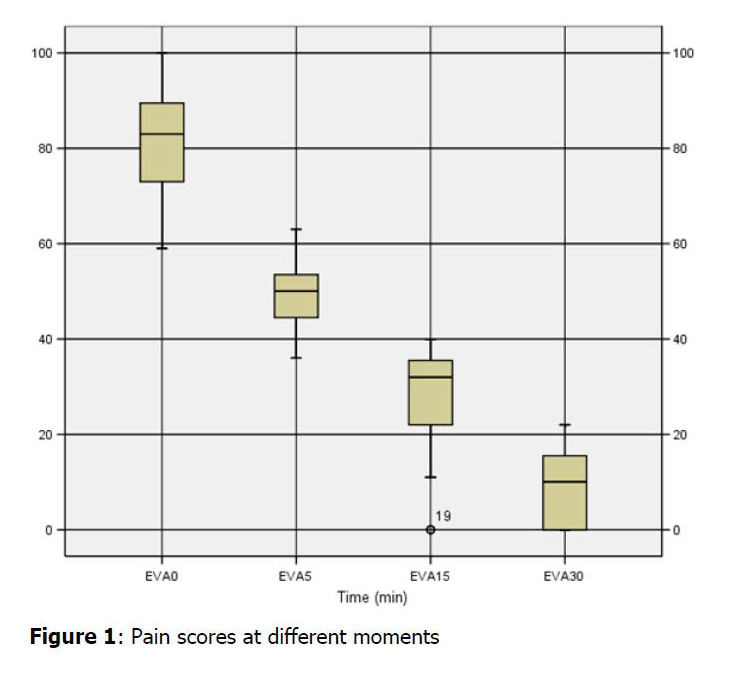 Web site Editorial comments:
Here is a study demonstrating that generic concentrations of fentanyl (50 mcg/ml) delivered intranasally are very effective for treating severe renal colic induced pain in adults. The authors conclude that when compared to current practice (IV medication) IN fentanyl "has the potential to improve patient and family satisfaction and could have further implications related to improved cost-effectiveness and quality of care."
I find this paper fascinating as this is not my experience in practice with adult patients. In my experience IN fentanyl is a bit too weak to reliably work at generic concentrations which is why I have switched to IN sufentanil which always works. I think I could control pain in an elephant with IN sufentanil. However, perhaps I was impatient and did not wait long enough or did not titrate appropriately. Or perhaps my adult patients have too much experience with alcohol and illicit drugs and therefore are more tolerant of nasal fentanyl (I have never had an problem with nasal fentanyl in adult sized teenagers – it works great). This study comes out of Morocco – perhaps their population is less accustomed to alcohol and drugs and therefore more responsive to generic nasal fentanyl. Whatever the case may be here is a method to very quickly provide pain control for a severely painful condition (renal colic) in a busy ER setting even if you intend to later provide IV therapy. This article provides a possible inexpensive method of treating renal colic deserving of more research: IN opiate, IN ketorolac, transmucosal antiemetic, No IV started at all (IV fluids do NOT assist in stone expulsion or pain control).
Pubmed link: http://www.ncbi.nlm.nih.gov/pubmed/26301011
Open access full article (click here)
___________________________________
Dolatabadi, A. A., M. Shojaee, et al. (2015). "Intranasal sufentanil versus intravenous morphine sulfate in pain management of patients with extremity trauma." Iranian Journal of Emergency Medicine 3(2): 116-121.
Abstract: Introduction: Pain is one of the most common complaints of patients referred to emergency department (ED) and its control is one of the most important responsibilities of the physicians. The present study was designed, aiming to compare the efficiency of intranasal sufentanil and intravenous (IV) morphine sulfate in controlling extremity trauma patients' pain in ED. Methods: In the present clinical trial, extremity trauma cases referred to the ED of Imam Hossein Hospital, Tehran, Iran, from October 2014 to March 2015 were randomly divided into 2 groups treated with intranasal sufentanil (0.3 μg/kg) and IV morphine sulfate (0.1 mg/kg) single-doses. Demographic data and information regarding the quality of pain control such as pain severity before intervention and 15, 30, and 60 minutes after intervention, and probable side effects were gathered using a checklist and compared between the 2 groups. Results: 88 patients with the mean age of 35.5 ± 14.8 years were included in the study (81.8% male). 44 patients received IV morphine sulfate and 44 got intranasal sufentanil. No significant difference was detected between the 2 groups regarding baseline characteristics. In addition, there was no significant difference in the groups regarding pain relief at different studied times (p = 0.12; F = 2.46; df: 1, 86). Success rate of the drugs also did not differ significantly at different studied times (p = 0.52). No significant difference was seen between the groups regarding side effects (p = 0.24). Conclusion: Based on the results of this study, it seems that intranasal sufentanil has a similar effect to IV morphine sulfate in rapid, efficient, and non-invasive pain control in patients with traumatic extremity injuries.
Web site Editorial comments:
This article supports prior ED studies by Steenblik (link to featured abstract) and Stephens (link to featured abstract) published in 2012. All three studies show a very fast onset of action and rapid pain control using IN sufentanil in adults with extremity trauma.
Personally this is my go to therapy every time I have an adult with extremity trauma or a burn that needs immediate pain control. I also use it for procedures, renal colic, abdominal pain that seems minor, etc. I can provide highly effective pain control within a few minutes of their arrival and they are pleasantly surprised and pleased with the results. If I later decide I need an IV, then this can be done when the nurse or technician has time, but the patient does not suffer while waiting for that IV and eventual IV opioid.
In fact they do not care since the IV does not hurt because they have effective pain control.
Pubmed link: NA
___________________________________
Montero, J. V., E. M. Nieto, et al. (2015). "Intranasal midazolam for the emergency management of hypercyanotic spells in tetralogy of fallot." Pediatr Emerg Care 31(4): 269-271.
Abstract: The case of a 2-month-old boy with previously diagnosed tetralogy of Fallot who was brought to the emergency department with a hypercyanotic spell is described.Because partly of the difficulty of intravenous placement, especially in an infant crying with marked hypernea and deeply cyanotic, intranasal midazolam was administered. Before 3 minutes of hypernea terminated increasing the oxygen saturation successfully and intravenous line was easily placed with the baby remaining in calm.Sedation is an important step in the management of patients with cyanotic spells. Intranasal midazolam offers an alternative use as an initial method of calming the child that was effective in a patient with a severe cyanotic spell because of tetralogy of Fallot in the emergency department.
Web site Editorial comments:
This is the second "tet spell" case report noting the speed and efficacy of intranasal medications for managing these frightening hypercyanotic spell. This study used IN midazolam, the prior study using IN fentanyl (click here for that study by Tzse). Here again is a use of IN medications as a bridge therapy to rapidly stabilize a patient who will eventually need an IV established.
Pubmed link: http://www.ncbi.nlm.nih.gov/pubmed/25831027
___________________________________
Brigo, F., R. Nardone, et al. (2015). "Nonintravenous midazolam versus intravenous or rectal diazepam for the treatment of early status epilepticus: A systematic review with meta-analysis." Epilepsy Behav.
Abstract: BACKGROUND: Prompt treatment of status epilepticus (SE) is associated with better outcomes. Rectal diazepam (DZP) and nonintravenous (non-IV) midazolam (MDZ) are often used in the treatment of early SE instead of intravenous applications. The aim of this review was to determine if nonintravenous MDZ is as effective and safe as intravenous or rectal DZP in terminating early SE seizures in children and adults. METHODS: We searched the Cochrane Central Register of Controlled Trials (CENTRAL), ClinicalTrials.gov, and MEDLINE for randomized controlled trials comparing non-IV MDZ with DZP (by any route) in patients (all ages) with early SE defined either as seizures lasting >5min or as seizures at arrival in the emergency department. The following outcomes were assessed: clinical seizure cessation within 15min of drug administration, serious adverse effects, time interval to drug administration, and time from arrival in the emergency department to seizure cessation. Outcomes were assessed using a random-effects Mantel-Haenszel meta-analysis to calculate risk ratio (RR), odds ratio (OR) and mean difference with 95% confidence intervals (95% CIs). RESULTS: Nineteen studies with 1933 seizures in 1602 patients (some trials included patients with more than one seizure) were included. One thousand five hundred seventy-three patients were younger than 16years. For seizure cessation, non-IV MDZ was as effective as DZP (any route) (1933 seizures; RR: 1.03; 95% CIs: 0.98 to 1.08). No difference in adverse effects was found between non-IM MDZ and DZP by any route (1933 seizures; RR: 0.87; 95% CIs: 0.50 to 1.50). Time interval between arrival and seizure cessation was significantly shorter with non-IV MDZ by any route than with DZP by any route (338 seizures; mean difference: -3.67min; 95% CIs: -5.98 to -1.36); a similar result was found for time from arrival to drug administration (348 seizures; mean difference: -3.56min; 95% CIs: -5.00 to -2.11). A minimal difference was found for time interval from drug administration to clinical seizure cessation, which was shorter for DZP by any route than for non-IV MDZ by any route (812 seizures; mean difference: 0.56min; 95% CIs: 0.15 to 0.98min). Not all studies reported information on time intervals. Comparison by each way of administration failed to find a significant difference in terms of clinical seizure cessation and occurrence of adverse effects. The only exception was the comparison between buccal MDZ and rectal DZP, where MDZ was more effective than rectal DZP in terminating SE but only when results were expressed as OR (769 seizures; OR: 1.78; 95% CIs: 1.11 to 2.85; RR: 1.15; 95% CIs: 0.85 to 1.54). Only one study was entirely conducted in an adult population (21 patients, aged 31 to 69years), showing no difference in efficacy or time to seizure cessation after drug administration between intranasal MDZ and rectal DZP. CONCLUSIONS: Non-IV MDZ is as effective and safe as intravenous or rectal DZP in terminating early SE in children and probably also in adults. Times from arrival in the emergency department to drug administration and to seizure cessation are shorter with non-IV MDZ than with intravenous or rectal DZP, but this does not necessarily result in higher seizure control. An exception may be the buccal MDZ, which, besides being socially more acceptable and easier to administer, might also have a higher efficacy than rectal DZP in seizure control. This article is part of a Special Issue entitled Status Epilepticus.
Web site Editorial comments:
Here is a meta-analysis of 1933 seizure episodes entered into all the high quality studies the authors selected that statistically verifies what has been stated on this site for the last 7 years and which we have used in our community for the last 18 years: Non-IV midazolam (i.e. Intranasal or buccal) is just as effective at stopping seizures as IV or rectal diazepam but its onset of action and cessation of seizures is faster due to the rapidity of delivery. (These studies and my practice location are in the Western world where most seizures are NOT due to meningitis – IN therapy may not be as effective as IV therapy in Africa where cerebral malaria is so common as has been noted in other studies reviewed on this web site).
Pubmed link: http://www.ncbi.nlm.nih.gov/pubmed/25817929
___________________________________
Caron, E., C. E. Wheless, et al. (2015). "The charges for seizures in the pediatric emergency room: a single center study." Pediatr Neurol 52(5): 517-520.
Abstract: BACKGROUND: The direct charges for emergency department visits resulting from recurrent seizures are significant, and home intervention with abortive medications can be cost-saving. Over a 1-year period, we evaluated children with seizures who were seen in the emergency department, stabilized, and released. The information is necessary to assess the pharmacoeconomic advantages of at-home interventions for seizure emergencies. METHODS: We did a retrospective chart review of 90 patients and divided them into febrile versus nonfebrile seizures and existing versus new-onset seizure disorder. The hospital accounting department performed a charge analysis. RESULTS AND CONCLUSION: The total charges for all 90 patients treated for seizures in the emergency department were $219,945. The minimum was $370, for a patient with no history of febrile seizures. The maximum was $17,126, for a patient with a nonfebrile seizure and a history of seizures. This information allows a comparison with the cost of preventive medications, such as diazepam rectal gel or intranasal midazolam.
Web site Editorial comments:
I wish we charged this little of an amount for seizure care. Never the less, the average charge is still huge ($2444) for a kid that is sent home from the ED and that charge does not even include the cost of ambulance transport which likely occurred for many of these cases. With the new paradigm of large deductible health insurance plans now available in the USA, this charge is a large burden to the family (it was always a burden but now even more painful). This is one more reason for we clinicians to learn about home generic IN midazolam (which costs in the range of 10 dollars with a delivery device and is 90% effective and totally safe based on large studies – see Holsti 2010 among others) and begin providing it to our patients. You can teach them in a few minutes and this website has visual directions and dosing tables to assist with that teaching and to send home with the patient. (Click here for those teaching materials).
Pubmed link: http://www.ncbi.nlm.nih.gov/pubmed/25882079
___________________________________
Rando, J., D. Broering, et al. (2015). "Intranasal naloxone administration by police first responders is associated with decreased opioid overdose deaths." Am J Emerg Med.
Abstract: OBJECTIVE: This study sought to answer the question, "Can police officers administer intranasal naloxone to drug overdose victims to decrease the opioid overdose death rate?" METHODS: This prospective interventional study was conducted in Lorain County, OH, from January 2011 to October 2014. Starting October 2013, trained police officers administered naloxone to suspected opioid overdose victims through a police officer naloxone prescription program (NPP). Those found by the county coroner to be positive for opioids at the time of death and those who received naloxone from police officers were included in this study. The rate of change in the total number of opioid-related deaths in Lorain County per quarter year, before and after initiation of the NPP, and the trend in the survival rate of overdose victims who were given naloxone were analyzed by linear regression. Significance was established a priori at P < .05. RESULTS: Data from 247 individuals were eligible for study inclusion. Opioid overdose deaths increased significantly before initiation of the police officer NPP with average deaths per quarter of 5.5 for 2011, 15.3 for 2012, and 16.3 for the first 9 months of 2013. After initiation of the police officer NPP, the number of opioid overdose deaths decreased each quarter with an overall average of 13.4. Of the 67 participants who received naloxone by police officers, 52 (77.6%) survived, and 8 (11.9%) were lost to follow-up. CONCLUSIONS: Intranasal naloxone administration by police first responders is associated with decreased deaths in opioid overdose victims.
Web site Editorial comments:
This is one of the first historical articles that now are beginning to document the positive effects of layperson/police administered naloxone – showing reduced mortality in the communities that embrace this intervention.
Pubmed link: http://www.ncbi.nlm.nih.gov/pubmed/26095132
___________________________________
Title:
Abstract:
Web site Editorial comments:
Pubmed link: