Featured new articles related to intranasal drug delivery:
April - June 2012
___________________________________
Steenblik, J., et al., Intranasal sufentanil for the treatment of acute pain in a winter resort clinic. Am J Emerg Med, 2012.
INTRODUCTION: Painful extremity injuries are common patient complaints in resort clinics, urgent care clinics, and emergency departments. We hypothesized that intranasal (IN) sufentanil could provide rapid, noninvasive, effective pain relief to patients presenting with acute extremity injuries. METHODS: This was an unblinded, nonrandomized, observational study that enrolled a convenience sample of patients presenting to a university-affiliated ski clinic with acute moderate to severe pain associated with a traumatic injury between the months of January and March 2011. Patients were excluded if they reported an allergy to sufentanil or had hypoxia, significant head injury, or hypotension. Nurses administered IN sufentanil using an IN atomizer device. The nurse recorded patient-reported pain scores (0-10 scale) on arrival and at 10, 20, and 30 minutes after administration of sufentanil. RESULTS: During the study period, 40 patients were enrolled; 75% were men. The average age was 32 years (range, 16-60 years). The average dose of sufentanil was 37.7 mug. Five patients (12.5%) were given additional IN analgesia. Average pain on arrival was 9 (on a 10-point scale), and the mean reduction in pain scores was 4.7 (95% confidence interval [CI], 3.67-5.57) at 10 minutes, 5.79 (95% CI, 4.81-6.77) at 20 minutes, and 5.74 (95% CI, 4.72-6.76) at 30 minutes. CONCLUSION: In this limited observational trial, IN sufentanil provided rapid, safe, and noninvasive pain relief to patients presenting with acute traumatic extremity injuries. Given the ease of administration, this may serve as a viable option for use in other settings, such as urgent care clinics and emergency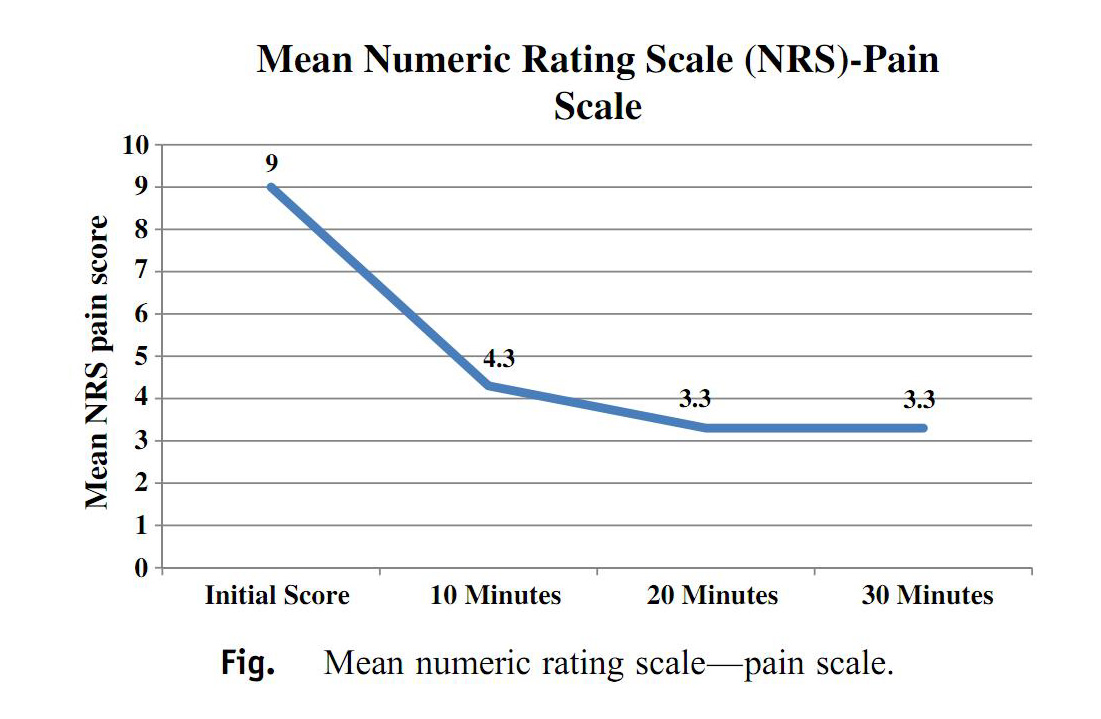 Web site Editorial comments:
Wow- Adult patients with orthopedic trauma and severe pain have a 5 point pain score reduction in 10 minutes, 6 points in 20 minutes just from a squirt of medicine in the nose. Very impressive. The ski clinic is yet another ideal setting for intranasal drugs - austere setting, fewer resources, injury that required pain control and perhaps manipulation but not really any fluid resuscitation so does not need an IV line. This is one more study showing how very effective nasal opiates are - as good as IV, just much faster.
We have used IN sufentanil for about 4 years with very similar results - onset in 2-3 minutes, excellent pain control at 15 minutes. However, I do have a minor word of caution related to sufentanil. It is metabolized differently in the young healthy patient (like this ski clinic situation and especially in children) and in this population nasal sufentanil rarely results in respiratory depression. The elderly can be different. We also use it often in the elderly but start with a lower dose (0.4 mcg/kg - titrate as needed) and always keep them on pulse oximetry. Also you must be very wary using this drug in the intoxicated patient - they can become apneic due to combined effects of the drugs they are using and this powerful opiate.
Pubmed link: http://www.ncbi.nlm.nih.gov/pubmed/22633713
___________________________________
Title:
Abstract
Web site Editorial comments:
Pubmed link:
___________________________________