Featured new articles related to intranasal drug delivery:
January - March 2012
Anderson, M., et al.,
Pharmacokinetics of buccal and intranasal lorazepam in healthy adult volunteers.
Eur J Clin Pharmacol, 2012.
68
(2): p. 155-9.
PURPOSE: To investigate the plasma-concentration profile of lorazepam when administered by the intranasal and buccal routes to determine their utility for the treatment of prolonged seizures. METHODS: On two occasions separated by at least 7 days washout, 12 healthy adult male volunteers received 2 mg of lorazepam via the intranasal or buccal route. Blood samples were collected at time periods from 0 to 48 h, and pharmacokinetic parameters were determined. RESULTS: Lorazepam was well absorbed from both administration routes; however, there was a more pronounced lag phase with the buccal route and absorption was more rapid from the intranasal route. CONCLUSIONS: Intranasal lorazepam has more favourable pharmacokinetics than buccal lorazepam when considering the need for the rapid blood concentrations required for seizure termination. Further clinical evaluation of this route is required.
Web site Editorial comments:
This study points out a finding that seems to be reproduced repeatedly in the clinical literature but is now better defined using a crossover design volunteer study. Namely that buccal drug does not absorb as rapidly as nasal drug and so is not as clinically effective for disease states that require rapid onset of action (seizure, breakthrough pain, opiate reversal for examples). Nasal drugs achieve therapeutic levels in the blood and CSF more rapidly and therefore their onset of action is earlier. This study elegantly proves this in volunteers who were given atomized nasal or buccal lorazepam and had their drug levels measured. The diagram below shows resulting serum levels in the first 10 minutes.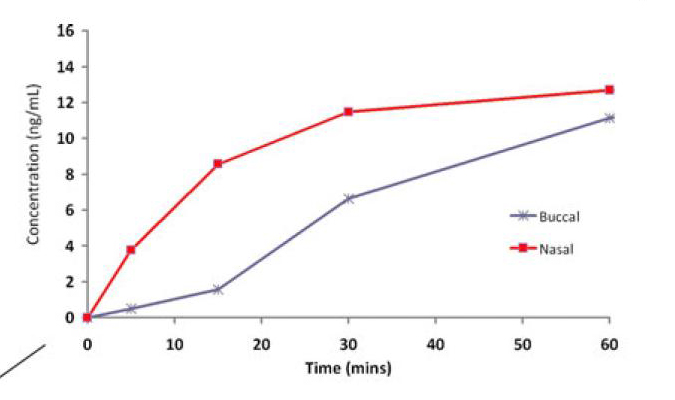 Interestingly the authors point out confirmation of this finding in a clinical trial on children - the trial compared buccal, intranasal and intravenous lorazepam for treating children with prolonged seizures. The trail was terminated early because the buccal arm had over 30% less effectiveness in the first 10 minutes of delivery. This trial has not been published but the basic results and design are available at this web site link:
http://clinicaltrials.gov/ct2/show/NCT00343096
The authors make the following conclusions: "The results from the present study suggest that the intranasal administration route leads to a significantly faster detectable concentration of lorazepam in plasma than the buccal route for the termination of prolonged seizures. Our findings suggest that intranasal, rather than buccal, lorazepam is likely to be more appropriate for the management of children with acute seizures."
Pubmed link: http://www.ncbi.nlm.nih.gov/pubmed/21837394
___________________________________
Silbergleit, R., et al., Intramuscular versus intravenous therapy for prehospital status epilepticus. N Engl J Med, 2012. 366(7): p. 591-600.
BACKGROUND: Early termination of prolonged seizures with intravenous administration of benzodiazepines improves outcomes. For faster and more reliable administration, paramedics increasingly use an intramuscular route. METHODS: This double-blind, randomized, noninferiority trial compared the efficacy of intramuscular midazolam with that of intravenous lorazepam for children and adults in status epilepticus treated by paramedics. Subjects whose convulsions had persisted for more than 5 minutes and who were still convulsing after paramedics arrived were given the study medication by either intramuscular autoinjector or intravenous infusion. The primary outcome was absence of seizures at the time of arrival in the emergency department without the need for rescue therapy. Secondary outcomes included endotracheal intubation, recurrent seizures, and timing of treatment relative to the cessation of convulsive seizures. This trial tested the hypothesis that intramuscular midazolam was noninferior to intravenous lorazepam by a margin of 10 percentage points. RESULTS: At the time of arrival in the emergency department, seizures were absent without rescue therapy in 329 of 448 subjects (73.4%) in the intramuscular-midazolam group and in 282 of 445 (63.4%) in the intravenous-lorazepam group (absolute difference, 10 percentage points; 95% confidence interval, 4.0 to 16.1; P<0.001 for both noninferiority and superiority). The two treatment groups were similar with respect to need for endotracheal intubation (14.1% of subjects with intramuscular midazolam and 14.4% with intravenous lorazepam) and recurrence of seizures (11.4% and 10.6%, respectively). Among subjects whose seizures ceased before arrival in the emergency department, the median times to active treatment were 1.2 minutes in the intramuscular-midazolam group and 4.8 minutes in the intravenous-lorazepam group, with corresponding median times from active treatment to cessation of convulsions of 3.3 minutes and 1.6 minutes. Adverse-event rates were similar in the two groups. CONCLUSIONS: For subjects in status epilepticus, intramuscular midazolam is at least as safe and effective as intravenous lorazepam for prehospital seizure cessation. (Funded by the National Institute of Neurological Disorders and Stroke and others; ClinicalTrials.gov number, ClinicalTrials.gov NCT00809146.).
Web site Editorial comments:
While this study does not actually use intranasal medications to treat seizures, it is a very important and well done trial that is applicable to the discussion on this website regarding therapy for status epilepsy. These authors found that intramuscular midazolam was as good if not better than intravenous lorazepam for rapid termination of status epilepsy. The reason is due to ease of drug delivery and therefore rapid drug delivery. Of course this is also the reason that intranasal midazolam and lorazepam are as effective as intravenous benzodiazepines in all the studies reviewed on this web site. For some reason they make a very odd comment supported by absolutely no data - "Midazolam can be administered by other nonintravenous routes as well, but the intramuscular route is more consistently effective than the intranasal or buccal routes because the drug cannot be blown or spat out by the convulsing patient." First of all, the literature actually suggests otherwise and the editorial in the same issue of the NEJM points out 3 reference showing IM benzodiazepines absorb LESS rapidly than nasal drugs (two references can be found in the seizure section of this web site - O'REgan 1996, Wermeling 2009). Secondly, this statement shows the lack of experience of the authors who wrote it - IN drugs are very easy to deliver to a seizing patient if you use a syringe driven atomizer and the patient is unconscious so they can't spit it back at your. Finally, many other studies for other drugs like opiates show more rapid onset of action and much higher patient satisfaction with IN versus IM drugs so I am not sure why these authors or the NEJM editorialist would allow this opinion to be stated. Never this less, this is a great study that demonstrates non intravenous therapy is essentially as effective as IV delivery of benzodiazepines for treatment of seizures and it is a lot easier to administer. It will be interesting to find out what the final version of this therapy costs. Currently the only approved drug for out-patient seizure therapy is rectal diazepam and it costs well over $100 per dose while being much less effective than nasal, intramuscular or intravenous therapy. Given this current cost, this new therapy will likely demand a similar price. Our EMS system and our community pediatric neurologists use generic midazolam at about $2-3 per dose plus a few dollars for the delivery device with success rates similar or superior to those found in this study. At this time, unless they can back up their odd statement concerning efficacy, I don't see a reason to change to something that risks an injection injury to the seizing patient and a needle stick to the provider and that will cost a lot more in this time of ever shrinking budgets.
Pubmed link: http://www.ncbi.nlm.nih.gov/pubmed/22335736
___________________________________
Hirsch, L.J.,
Intramuscular versus intravenous benzodiazepines for prehospital treatment of status epilepticus.
N Engl J Med, 2012.
366
(7): p. 659-60.
Web site Editorial comments:
This is simply an editorial reviewing the above study and pointing out the key facts. This author corrects part of the error stated in the above article but then goes on and repeats the statement for some reason: "Multiple studies have shown that nasal or buccal midazolam stops seizures faster than rectal or intravenous diazepam and is absorbed faster than intramuscular midazolam." (references provided) "However there may be issues with reliable and consistent delivery or absorption with the buccal and nasal routes.." (no references provided).
Pubmed link: http://www.ncbi.nlm.nih.gov/pubmed/22335744
___________________________________
Kawanda, L., et al.,

Sedation with intranasal midazolam of Angolan children undergoing invasive procedures.

Acta Paediatr, 2012.

101

(7): p. e296-8.
AIM: Ambulatory surgery is a daily requirement in poor countries, and limited means and insufficient trained staff lead to the lack of attention to the patient's pain. Midazolam is a rapid-onset, short-acting benzodiazepine which is used safely to reduce pain in children. We evaluated the practicability of intranasal midazolam sedation in a suburban hospital in Luanda (Angola), during the surgical procedures. METHODS: Intranasal midazolam solution was administered at a dose of 0.5 mg/kg. Using the Ramsay's reactivity score, we gave a score to four different types of children's behaviour: moaning, shouting, crying and struggling, and the surgeon evaluated the ease of completing the surgical procedure using scores from 0 (very easy) to 3 (managing with difficulty). RESULTS: Eighty children (median age, 3 years) were recruited, and 140 surgical procedures were performed. Fifty-two children were treated with midazolam during 85 procedures, and 28 children were not treated during 55 procedures. We found a significant difference between the two groups on the shouting, crying and struggling parameters (p < 0.001). The mean score of the ease of completing the procedures was significantly different among the two groups (p < 0.0001). CONCLUSION: These results provide a model of procedural sedation in ambulatory surgical procedures in poor countries, thus abolishing pain and making the surgeon's job easier.
Web site Editorial comments:
Here is the ultimate indication for nasal drugs - to cut costs and improve patient care even in a country with very limited medical resources. These authors were able to more comfortably perform procedures such as I&D abscesses, reduce femur fractures, do circumcisions, and perform thoracentesis using nasal midazolam. They found this therapy resulted in less crying, better cooperation, and they needed fewer assistants to restrain the patient. Their overall cost for care - atomizer device plus generic drug - was 4.5 Euros. They conclude "Intranasal midazolam is a cheap and effective way to treat pain in children during surgical procedures in poor countries, when anesthetists are not available, as well as making the surgeons job easier." My only suggestion is to add a nasal opiate to the mix to get both sedation and excellent pain control.
Pubmed link: http://www.ncbi.nlm.nih.gov/pubmed/22458936
___________________________________
Javadzadeh, M., K. Sheibani, et al. (2012). "Intranasal midazolam compared with intravenous diazepam in patients suffering from acute seizure: A randomized controlled trial." Iran J Pediatr 22(1): 1-8.
Objective: Acute seizure attack is a stressful experience both for health care personnel and parents. These attacks might cause morbidity and mortality among patients, so reliable methods to control the seizure preferably at home should be developed. This study was performed to measure the time needed to control seizure attacks using intranasal midazolam compared to the common treatment (intravenous diazepam) and to evaluate its probable side effects. Methods: This study was conducted as a not blind randomized clinical trial among 60 patients coming to Imam Ali Hospital, Zahedan, Iran. The patients were 2 months to 15 years old children coming to our emergency department suffering from an acute seizure episode. Intranasal midazolam was administered 0.2 mg/kg equally dropped in both nostrils for case group and intravenous diazepam was administered 0.3mg/kg via IV line for control group. After both treatments the time needed to control the seizure was registered by the practitioner. Pulse rate and O saturation were recorded at patients' entrance and in minutes 5 and 10 after drug administration. Findings: The time needed to control seizure using intranasal midazolam (3.16±1.24) was statistically shorter than intravenous diazepam (6.42±2.59) if the time needed to establish IV line in patients treated by intravenous diazepam is taken into account (P<0.001). The readings for O saturation or heart rate did not indicate a statistically significant difference between two groups of patients either at entrance or 5 and 10 minutes after drug administration. Conclusion: Considering the shorter time needed to control acute seizure episodes compared to intravenous diazepam and its safety record, intranasal midazolam seems to be a good candidate to replace diazepam, as the drug of choice, in controlling this condition.
Web site Editorial comments:
Here we have one more study demonstrating the equivalent efficacy of intranasal midazolam to intravenous diazepam in ability to stop seizure activity during status epilepsy fits. Furthermore, just as in every other study, the nasal drug results in more rapid control of the seizure (3.16 min vs. 6.42 minutes) due to the delays related to establishing an IV. Finally, there was no respiratory depression using intranasal midazolam further supporting these and other authors conclusions that this is a safe and ideal solution for home treatment of status epilepticus.
Full Article link: http://ijp.tums.ac.ir/index.php/ijp/article/view/1270
___________________________________
Hippard, H. K., K. Govindan, et al. (2012). "Postoperative analgesic and behavioral effects of intranasal fentanyl, intravenous morphine, and intramuscular morphine in pediatric patients undergoing bilateral myringotomy and placement of ventilating tubes." Anesth Analg 115(2): 356-363.
BACKGROUND: Bilateral myringotomy and placement of ventilating tubes (BMT) is one of the most common pediatric surgical procedures in the United States. Many children who undergo BMT develop behavioral changes in the postanesthesia care unit (PACU) and require rescue pain medication. The incidence of these changes is lower in children receiving intraoperative opioids by the nasal, IM, or IV route compared with placebo. However, there are no data to indicate which route of administration is better. Our study was designed to compare the immediate postoperative analgesic and behavioral effects of 3 frequently used intraoperative techniques of postoperative pain control for patients undergoing BMT under general anesthesia. METHODS: One hundred seventy-one ASA physical status I and II children scheduled for BMT were randomized into 1 of 3 groups: group 1-nasal fentanyl 2 mug/kg with IV and IM saline placebo; group 2-IV morphine 0.1 mg/kg with nasal and IM placebo; or group 3-IM morphine 0.1 mg/kg with nasal and IV placebo. All subjects received a standardized general anesthetic with sevoflurane, N(2)O, and O(2) and similar postoperative care. The primary end point of the study was the pain scores measured by the Faces, Legs, Activity, Cry, and Consolability (FLACC) scale in the PACU. RESULTS: There were no significant differences in peak FLACC pain among the 3 groups (mean [95% CI] 2.0 [1.2-2.8] for intranasal fentanyl, 2.7 [1.7-3.6] for IV morphine, and 2.9 [2.1-3.7] for IM morphine, respectively). There were no differences in the scores on the Pediatric Anesthesia Emergence Delirium (PAED) scale, incidence of postoperative emergence delirium (PAED score >/=12), emesis, perioperative hypoxemia, or need for airway intervention, and postoperative rescue analgesia. There were also no differences in the duration of PACU stay or parental satisfaction among the groups. CONCLUSION: In this double-blind, double-dummy study, there was no difference in the efficacy of intranasal fentanyl, IM and IV morphine in controlling postoperative pain and emergence delirium in children undergoing BMT placement. The IM route is the simplest and avoids the potential for delays to establish vascular access for IV therapy and the risks of laryngospasm if intranasal drugs pass through the posterior nasopharynx and irritate the vocal cords.
Web site Editorial comments:
Another study showing that brief operative procedures like myringotomy, where no IV is needed, can have post-operative pain successfully treated with nasal fentanyl. Nasal fentanyl was just as effective as IV or IM morphine at controlling pain and there were no differences in any side effects. Why the final sentence in this abstracts conclusion is present - i.e. implying IM shot is better despite their conclusive data to the contrary - is unclear. We emailed them asking why with no response yet. Nasal fentanyl has never been shown to cause laryngospasm from passing to the vocal cords and if you atomize the drug it remains in the nose rather than running down into the pharynx so it is a non-issue. Obviously our bias is towards nasal fentanyl where there is no risk of needle stick or pain or injury from an IM injection.
Pubmed link: http://www.ncbi.nlm.nih.gov/pubmed/22669347
___________________________________
Title:
Abstract
Web site Editorial comments:
Pubmed link: