Featured new articles related to intranasal drug delivery:
January-March 2013
Based on another request, we have posted a set of Pre-hospital teaching slides that have audio embedded. You can download these, eliminate any slides you wish and customize them to fit your needs.
EMS teaching slide sets with audio embedded
___________________________________
Etteri, M. and A. Bellone, Intranasal Fentanyl for analgesia in adults with acute renal colic. Emergency Care Journal, 2012. 8(2): p. 13-18.
Objectives: The usual treatment of pain in acute renal colic is analgesic in intravenous (IV) route. We tried a rapid, non painful, non-invasive route of administration using intranasal fentanyl versus IV standard treatment (non steroidal anti-inflammatory drug (NSAIDs) plus morphine) for the relief of pain in renal colic presenting to an Emergency Department (ED). Methods: We conducted a prospective non-blinded randomized clinical trial. A sample of 63 adult patients with clinical diagnosis of acute renal colic was included to receive either intravenous morphine (5 mg) plus ketorolac (30 mg) or intranasal fentanyl (3 µg/kg). Pain score were rated by using a 10 cm visual analogue scale at 0,30 and 60 minutes after the treatment. Primary outcome was pain reduction. Secondary outcomes were adverse events and rescue treatment. Results: Sixty-three patients were enrolled. Thirty patients received nasal fentanyl and thirty-three received intravenous morphine plus ketorolac. Morphine-ketorolac therapy was statistically significant more effective than nasal fentanyl therapy in visual analog scores at 30 minutes: the difference in mean visual analog scale between the two groups was 1.74 cm (95% confidence interval 0.29 to 3.2; P=0.018) at 30 minutes. There were not statistically significant differences between the two groups at 60 minutes. There were no significant differences between the groups with regard to secondary outcomes (adverse events and rescue treatment). Conclusions: A combination of intravenous morphine plus ketorolac offers pain relief superior to nasal fentanyl treatment for ED patients with acute renal colic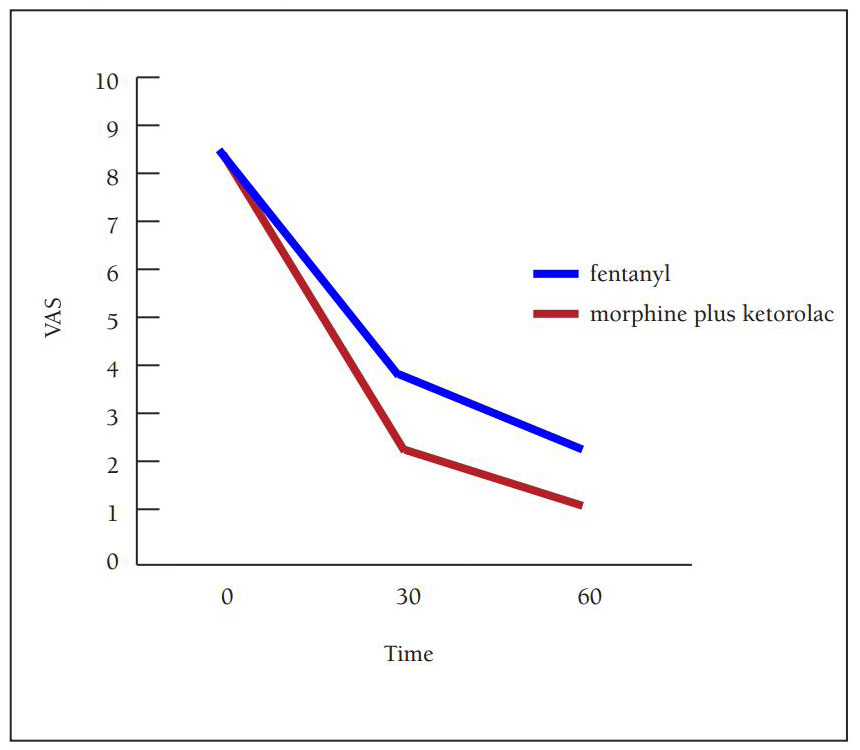 Click here for the journals link to the article (free)
Web site Editorial comments:
This is a very nice clinical trial that compared IV morphine plus IV ketorolac (5 mg / 30 mg) to intranasal fentanyl (3 mcg/kg of 50 mcg/ml solution) for the treatment of acute renal colic in adults. Not surprisingly, the IV formulation was superior in efficacy. However, it is still quite impressive how the nasal group faired in terms of pain control for such an uncomfortable condition (see the graph). Pain scores on a 10 cm VAS at entry, 30 minute and 60 minutes for the morphine/ketorolac IV arm were 8.6 / 2.3 / 1.1 respectively. For the intranasal fentanyl arm they were 8.8 /4.0 / 2.2 respectively. The authors conclude that for a condition as painful as renal colic, IV morphine and ketorolac is the first choice of therapy, while nasal fentanyl might be appropriate in a less controlled setting such as out of hospital or nurse initiated setting.
It is not surprising that the IV combination of an opiate plus a NSAID worked better than an opiate alone for 2 reasons. First generic concentrations of fentanyl tend to be a little less effective in adults due to volume issues and second because non-steroidal anti-inflammatories are a mainstay for successful therapy of renal colic. They are in reality the best treatment over time, but take longer to work so we tend to add an opiate to get pain more rapidly in control. I wonder if a combination of concentrated fentanyl or generic sufentanil PLUS an oral or nasal NSAID might not have changed these results. I have no research data to support this opinion but do have personal experience (nasal sufentanil plus oral ibuprofen) suggesting it is very effective. Future investigators should strongly consider these minor protocol changes – the authors actually admit the lack of a NSAID is a limitation to their study design. I do agree with the investigators that IV therapy is preferred if possible because these patients frequently need multiple doses of drugs and nausea medications and repeat evaluations, need their blood drawn to evaluate renal function (so get a needle stick anyhow), etc. Never the less this is a great study and helps us define the niche (or lack of niche) for nasal drugs in our daily practice.
Pubmed link: not on Pubmed - go here instead - http://www.pagepressjournals.org/index.php/ecj/article/view/1072
___________________________________
Coffin, P.O. and S.D. Sullivan, Cost-effectiveness of distributing naloxone to heroin users for lay overdose reversal. Ann Intern Med, 2013. 158(1): p. 1-9.
Compton, W.M., et al., Expanded access to opioid overdose intervention: research, practice, and policy needs. Ann Intern Med, 2013. 158(1): p. 65-6.
BACKGROUND: Opioid overdose is a leading cause of accidental death in the United States. OBJECTIVE: To estimate the cost-effectiveness of distributing naloxone, an opioid antagonist, to heroin users for use at witnessed overdoses. DESIGN: Integrated Markov and decision analytic model using deterministic and probabilistic analyses and incorporating recurrent overdoses and a secondary analysis assuming heroin users are a net cost to society. DATA SOURCES: Published literature calibrated to epidemiologic data. TARGET POPULATION: Hypothetical 21-year-old novice U.S. heroin user and more experienced users with scenario analyses. TIME HORIZON: Lifetime. PERSPECTIVE: Societal. INTERVENTION: Naloxone distribution for lay administration. OUTCOME MEASURES: Overdose deaths prevented and incremental cost-effectiveness ratio (ICER). RESULTS OF BASE-CASE ANALYSIS: In the probabilistic analysis, 6% of overdose deaths were prevented with naloxone distribution; 1 death was prevented for every 227 naloxone kits distributed (95% CI, 71 to 716). Naloxone distribution increased costs by $53 (CI, $3 to $156) and quality-adjusted life-years by 0.119 (CI, 0.017 to 0.378) for an ICER of $438 (CI, $48 to $1706). RESULTS OF SENSITIVITY ANALYSIS: Naloxone distribution was cost-effective in all deterministic and probabilistic sensitivity and scenario analyses, and it was cost-saving if it resulted in fewer overdoses or emergency medical service activations. In a "worst-case scenario" where overdose was rarely witnessed and naloxone was rarely used, minimally effective, and expensive, the ICER was $14 000. If national drug-related expenditures were applied to heroin users, the ICER was $2429. LIMITATION: Limited sources of controlled data resulted in wide CIs. CONCLUSION: Naloxone distribution to heroin users is likely to reduce overdose deaths and is cost-effective, even under markedly conservative assumptions. PRIMARY FUNDING SOURCE: National Institute of Allergy and Infectious Diseases.
In an accompanying editorial, Compton et al review the FDA views on the topic – which are extremely favorable towards prescription home naloxone and eventually over the counter naloxone. At this point the FDA is fully aware of the off-label lay person use of naloxone both nasally and Intramuscularly and applauds this movement but hopes to encourage the pharmaceutical industry to develop easily administered and more highly controlled forms of this medication.
Web site Editorial comments:
Is a year of life worth $438-$14,000 to you? Is it worth saving a human life – often a young adult - so they can go on to experience life for decades to come? I doubt this is a very hard decision and I find it amazing and sad when I hear some clinicians or politicians comment on the ethics of distributing naloxone to lay people. Have they forgotten why we have entered the practice of medicine, have they really lost their human compassion for the value of someone else's life? Do they truly believe they can judge a life worth saving (for a few hundred dollars per year no less) versus one that is not?
Pubmed link: http://www.ncbi.nlm.nih.gov/pubmed/23277895
___________________________________
Yeaman F, Oakley E, Meek R, Graudins A. Sub-dissociative dose intranasal ketamine for limb injury pain in children in the emergency department: A pilot study. Emerg Med Australas 2013;25:161-7.
OBJECTIVE: The present study aims to conduct a pilot study examining the effectiveness of intranasal (IN) ketamine as an analgesic for children in the ED. METHODS: The present study used an observational study on a convenience sample of paediatric ED patients aged 3-13 years, with moderate to severe (>/=6/10) pain from isolated limb injury. IN ketamine was administered at enrolment, with a supplementary dose after 15 min, if required. Primary outcome was change in median pain rating at 30 min. Secondary outcomes included change in median pain rating at 60 min, patient/parent satisfaction, need for additional analgesia and adverse events being reported. RESULTS: For the 28 children included in the primary analysis, median age was 9 years (interquartile range [IQR] 6-10). Twenty-three (82.1%) were male. Eighteen (64%) received only one dose of IN ketamine (mean dose 0.84 mg/kg), whereas 10 (36%) required a second dose at 15 min (mean for second dose 0.54 mg/kg). The total mean dose for all patients was 1.0 mg/kg (95% CI: 0.92-1.14). The median pain rating decreased from 74.5 mm (IQR 60-85) to 30 mm (IQR 12-51.5) at 30 min (P < 0.001, Mann-Whitney). For the 24 children who contributed data at 60 min, the median pain rating was 25 mm (IQR 4-44). Twenty (83%) subjects were satisfied with their analgesia. Eight (33%) were given additional opioid analgesia and the 28 reported adverse events were all transient and mild. CONCLUSIONS: In this population, an average dose of 1.0 mg/kg IN ketamine provided adequate analgesia by 30 min for most patients.
Web site Editorial comments:
Editorial comment: Here is the first study that many readers have been awaiting describing the efficacy of intranasal ketamine for treatment of acute pain. It is a small, preliminary trial but the results are promising and it gives us a starting dose – 1 mg/kg of intranasal ketamine. This drug might be used to complement fentanyl if the initial dose of fentanyl is effective, or visa versa – given first line and followed with Fentanyl if additional pain medication is required. The study also points out a concept that some clinicians still are not familiar with – the concept of titration of pain medication via the NASAL route just as we all do via the intravenous route. Within 30 minutes, using no IV access, these children had their pain scores down by 44 mm. This is almost identical to that seen with titrated fentanyl in the Borland study from 2007. Here is another tool in our armamentarium for treating acute pain – painlessly.
Pubmed link: http://www.ncbi.nlm.nih.gov/pubmed/?term=yeaman+and+intranasal+ketamine
___________________________________
Title:
Abstract
Web site Editorial comments:
Pubmed link: