Featured new articles related to intranasal drug delivery:
April - September 2013
___________________________________
Humphries, L. K. and L. S. Eiland (2013). "Treatment of acute seizures: is intranasal midazolam a viable option?" J Pediatr Pharmacol Ther 18(2): 79-87.
Seizures in the pediatric population commonly occur, and when proper rescue medication is not administered quickly, the risk of neurologic compromise emerges. For many years, rectal diazepam has been the standard of care, but recent interest in a more cost-effective, safe alternative has led to the investigation of intranasal midazolam for this indication. Although midazolam and diazepam are both members of the benzodiazepine class, the kinetic properties of these 2 anticonvulsants vary. This paper will review available data pertaining to the efficacy, safety, cost, and pharmacokinetics of intranasal midazolam versus rectal diazepam as treatment for acute seizures for children in the prehospital, home, and emergency department settings.
Web site Editorial comments:
The article provides an up to date overview of the pharmacokentics and absorptive properties of benzodiazpines for anyone who is interested in a deeper understanding of this issue. They also provide an extensive review of the literature regarding the two currently available rapid methods of treating seizures in an outpatient setting – rectal diazepam versus nasal midazolam – including cost differences (a few hundred dollars a dose for rectal diazepam versus less than 20 dollars a dose for nasal). They conclude that "Intranasal midazolam should be considered as an anticonvulsant agent for community, prehospital, and ED use in children when intravenous access is not available and the rectal route is not desirable."
Free open access article link: http://www.ncbi.nlm.nih.gov/pmc/articles/PMC3668946/
Free PDF: PDF of article click here
Pubmed link: http://www.ncbi.nlm.nih.gov/pubmed/?term=humphries+and+intranasal+midazolam
___________________________________
Johansson, J., J. Sjoberg, et al. (2013). "Prehospital analgesia using nasal administration of S-ketamine--a case series." Scand J Trauma Resusc Emerg Med 21: 38.
Pain is a problem that often has to be addressed in the prehospital setting. The delivery of analgesia may sometimes prove challenging due to problems establishing intravenous access or a harsh winter environment. To solve the problem of intravenous access, intranasal administration of drugs is used in some settings. In cases where vascular access was foreseen or proved hard to establish (one or two missed attempts) on the scene of the accident we use nasally administered S-Ketamine for prehospital analgesia. Here we describe the use of nasally administered S-Ketamine in 9 cases. The doses used were in the range of 0,45-1,25 mg/kg. 8 patients were treated in outdoor winter-conditions in Sweden. 1 patient was treated indoor. VAS-score decreased from a median of 10 (interquartile range 8-10) to 3 (interquartile range 2-4). Nasally administered S-Ketamine offers a possible last resource to be used in cases where establishing vascular access is difficult or impossible. Side-effects in these 9 cases were few and non serious. Nasally administered drugs offer a needleless approach that is advantageous for the patient as well as for health personnel in especially challenging selected cases. Nasal as opposed to intravenous analgesia may reduce the time spent on the scene of the accident and most likely reduces the need to expose the patient to the environment in especially challenging cases of prehospital analgesia. Nasal administration of S-ketamine is off label and as such we only use it as a last resource and propose that the effect and safety of the treatment should be further studied.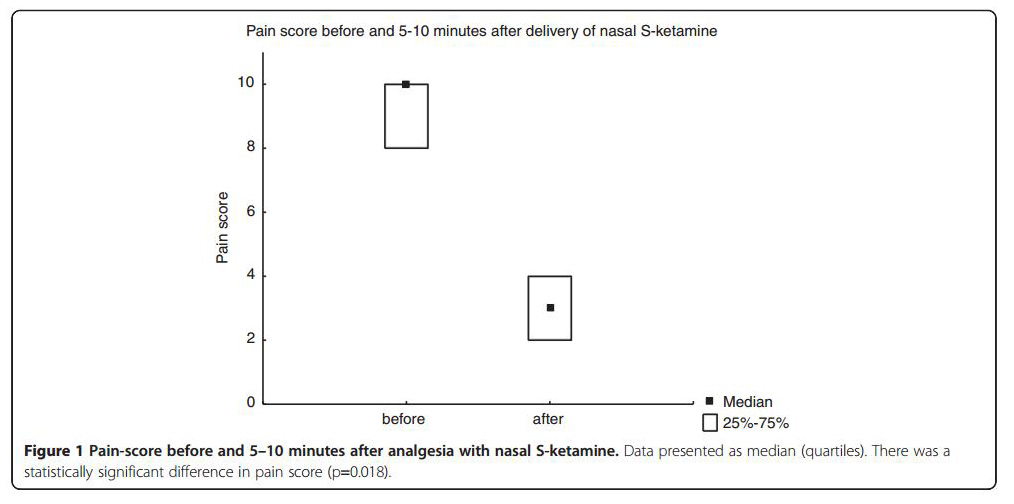 Web site Editorial comments:
Editorial comment: This article is a case series of 9 patients describing the experience of the EMS providers using nasal s-ketamine for the treatment of acute trauma patients (orthopedic ski injuries in severe pain) in a remote, cold environment where they failed to obtain IV access after 2 tries. They used relatively dilute ketamine (25 mg/ml) and doses that are appropriate for pain but should not cause sedation - 0.5 mg/kg titrated with a second dose 2 minutes later, maximum of 0.5 ml per nostril per dose (final dose approximately 1 mg/kg – range 0.45 to 1.25 mg/kg). Median pain scores were reduced from 8.4 to 3 – a reduction that achieved significance even in this small sample size.
This is the second clinical field trial this year suggesting that IN ketamine in doses of about 1 mg/kg is effective for the treatment of acute pain. Larger trials that incorporate better study designs will be helpful in further defining the best concentration and dose required to effectively control pain and whether a combination with fentanyl or sufentanil is appropriate.
Free open access link to article: http://www.ncbi.nlm.nih.gov/pmc/articles/PMC3660173/
Pubmed link: http://www.ncbi.nlm.nih.gov/pubmed/?term=Johansson+and+nasal+and+ketamine
___________________________________
Title:
Abstract
Web site Editorial comments:
Pubmed link:
___________________________________